---
Mattson Series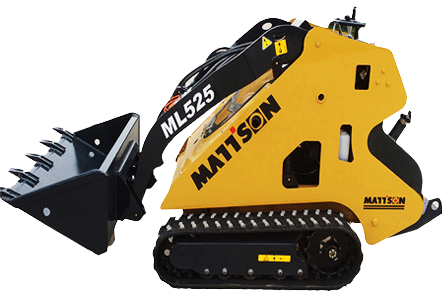 ML525 Mini Crawler skid Steer Loader
Imagine all the jobs you can do and the time you can save. Every labor saving, our ML 525 give you effortless manoeuvrability with a short learning curve, even for inexperienced operators.
Multi-purpose
Can be equipped with a variety of slip machine attached, including bucket, blender, push the snowboard
Safe operation, simple operation
Fuselage configuration of the electronic control system and hydraulic drive safety system to ensure the smooth operation of the work.
High production efficiency
Only one person can easily complete the 3-5 individual labor efficiency
Multiple configurations
Optional crawler, tire-type optional; power, with optional requirements, can provide up to 300 kinds of attached features
ML550 50 HP mini skid steer loader
A compact mini loader with higher capacity and power, suite your heavy jobs more than ever.
Higher Capacity
Equipped with a 48HP Perkins Engine and 60L/min of auxiliary pump capacity, the mini loader is enabled to do more heavy jobs with 381kg(840lb) of SAE rated operating capacity.
Durability
Ground drive is controlled by a single pilot-operated joystick, giving the operator a smooth range of motion, while a single dual-axis joystick controls boom/bucket motion.
Easy maintenance
Pop open a panel to access the hydraulic filter, radiator and electrical control board.
Status monitoring
Warning lights for engine oil pressure, engine temperature and hydraulic oil temperature are located near the control panel.
---
Sunward Series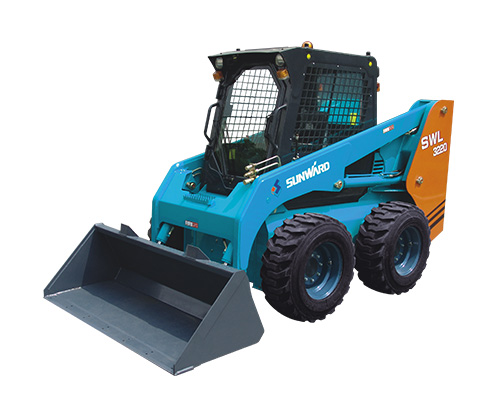 SWL skid steer loader 3220
SWL skid steer loader is a new generation of small multi-function equipment integrating mechanics, electronics and hydraulics under the independent research and development, with every performance index having reached the international advanced level. The machine features compact structure, flexible movement, convenient operation, efficient working, powerful function and simple maintenance. It is especially applicable to urban infrastructure, roads or construction sites, workshop, warehouse, dock, ship deck, even inside of cabin and other places with narrow space and frequently-changed operational contents. By changing different devices, it realizes the shoveling and carrying, lifting, digging, drilling, crushing, scraping, scarification, snow blowing, deicing, road sweeping, pavement milling, and compaction operation..
Total weight: 3350kg Loading capacity: 1000kg Tipping load: 2000kg
Medium Excavator SWE210
SWE series medium hydraulic excavators have taken over the robust style of full range of Sunward series, streamlined appearance and clouds pattern and adopted the idea of "integrated innovation" and "open innovation". Launched as a pioneer series products for urban construction, such product features reliability, high efficiency, energy saving and comfort, it is developed relying on long-term accumulation of machine design and electro-hydraulic integration technology. Its main component is the power and hydraulic systems customized by cooperation with internationally renowned strategic core parts suppliers and the self-developed control and monitoring system is its core. The machine is equipped with a high-grade cab that conforms to the Europe FOPS / ROPS safety standards, with the front view in conformity with ISO standards and a minimum range of surrounding blind view area; in addition, the machine is provided with a new self-folding seat and an operating handle for easy control; with simple and convenient maintenance as well as a monitoring system characterized by wide viewing angle, high definition, high brightness, friendliness and rich content, the machine can be used to carry out various construction tasks of earthwork and so it is called the new power of earthmoving equipment. By virtue of its excellent performance and reliable quality, the medium excavators are widely used in the first-line project construction all over the Country and have a wide application in the national water conservancy system, and therefore, it is worthy of the title "Specialized earthmoving equipment"!
Gross weight: 21.3t(46960lb)
Bucket capacity: 0.95m³ (1.24yd³)
Engine Brand: ISUZU
Engine power: 122kW/2000rpm (164hp)
"Three High and One Low": High configuration, High efficiency, High reliability, Low fuel consumption Use cab by a highest safety standard which is conform to EU FOPS/ROPS Working unit is specially designed for mining and quarry with a strong excavation force and higher reliability Adopt parallel radiator, easily cleaning, keep long effect for cooling Original imported hydraulic motor with large torque -strong driving force